Stories
Biography
Graphics
Contact Us
Feedback

Latest updates
Poems
Added Spring 2012
Rain-
Nuit

Time to Love -
GeminiGirl
Many new stories 2012!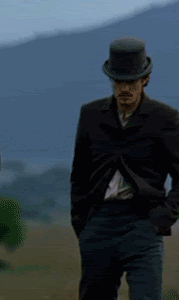 7 Pages of Animations by Krazymoonkat
Welcome to Larrikinmary.com. This website hosts a collection of fan fiction, graphics and writing about Joe Byrne, the 'lieutenant' of the Kelly Gang. Enigmatic and charming, Joe was responsible for the flowing script of the Jerilderie letter, the murder of Aaron Sherritt and reputedly the fluttering of many hearts. He was a rebel, errant son, loyal friend, horseman, poet, a symbol of defiance and a larrikin.
Ned Kelly and his gang have inspired a vast, varied and vibrant body of work over the last hundred and thirty years; studies, novels, poetry, songs and films - including what is generally acknowledged as the first-ever feature film, made in 1906. The work you will find here has been created in recent years as part of the explosion of self-published creativity spawned by the internet. Much of it has been, at least initially, inspired by the 2003 Gregor Jordan film, Ned Kelly and by the portrayal of Joe in that film by Orlando Bloom.
Joe's activities as a member of the Gang are exhaustively chronicled, and in both factual and in fictionalised accounts there are tantalising glimpses of the private man who continues to fascinate many who come across his story. Although Orlando bears no physical resemblance to Joe, they clearly share head-turning looks and easy charm. It's fair to say, and might perhaps for some readers serve as due warning, that it is this aspect of Joe that informs much of the content here.

If you are interested in finding out more about the Kelly Gang in general and Joe in particular, there is no shortage of material. However, as an introduction for the new or casual browser of the website, we have provided a short biography here.
Why Larrikin Mary?
In the days of the Kelly Gang, Mary Jordan, sometimes known as Mary the Larrikin, ran the bar in a hotel two or three miles from Jerilderie in New South Wales. Jerilderie was the scene of the Gang's most daring and successful bank raid and gave its name to the famous letter which first saw the light of day there. Joe, who had met and taken a liking to Mary on the Gang's way into town, returned to visit her the following evening, right in the middle of the preparations for the robbery, leaving his mates to guard the prisoners they had already taken. Which, we feel, rather goes to prove that even at critical moments, Joe had more on his mind than outlawry and rebellion. Mary, we salute you.
The 2003 film of Ned Kelly owes so much to the late Heath Ledger's empathic and passionate performance as Ned. We remember his work with gratitude and pleasure.